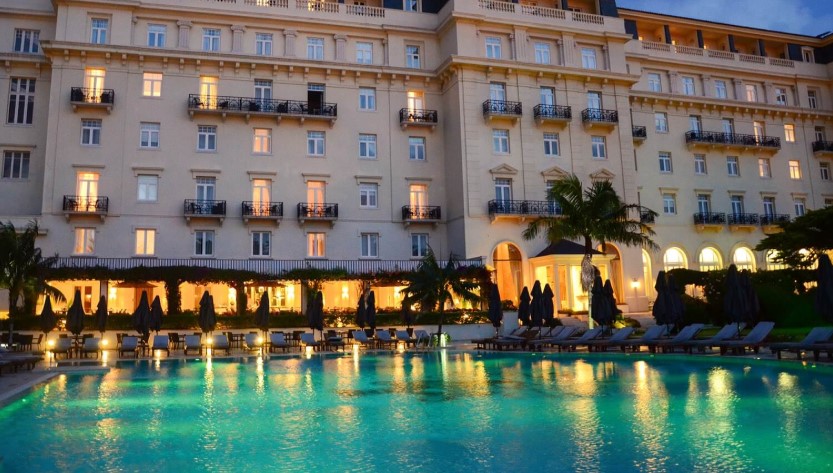 Palacio Estoril is an oasis located in Lisbon, Portugal. This is a getaway for those who are looking for targeted healing and wellness in a beautiful and relaxing setting.
In terms of health and physical fitness, there is a large and well equipped gym that aims to focus on the idea/ concept of functional training. This idea focuses on the idea of training and improving the muscle groups, movement, and areas that are used for day to day activities such as walking, lifting, sitting, etc. The fitness facilities offer credible and certified personal trainers that work with the trainees to establish and accomplish goals and meet personal targets, ultimately aiming to ensure all guests leave feeling like the best versions of themselves.
There are treatment rooms that actually serve double duty and helps with both mind and body. The hydrotherapy is a great way to unwind and separate from the stress of day to day life. Jet Showers can help cleanse and detoxify the body. There are also steam rooms, saunas, tubs and other amenities available to guests as well.
As far as wellness goes, there is an extensive list of services that are available to guests in a lush, scenic and relaxing setting, some of which are:
Hydro-massage
Turkish baths
Jet showers
Vichy showers with essential oils
Bertholaix
Steam stove for your hands as well as your feet.
Steam Column

Full body massage with or without essential oils.
specialized and localized massages with or without essential oils.
Leg massage (a great option for those with sedimentary jobs)
Watsu sessions
Radio-frequency facials
liposuction
Hair treatments
Scalp treatments
Slimming treatments that are unique and help with slimming, firming and toning skin and reducing cellulite.
Full body exfoliation.
Part of the magic of this retreat is the location and ambiance of the retreat. Listening to the sea is relaxing unto itself, but put a large, fantastic spa beside the sea and it is a recipe for success. There is even an underground passage that allows guests to move between the hotel and the impressive wellness center. The wellness center is two floors of tastefully and thoughtfully decorated relaxation space. Other amenities include therapy pools and unique offerings like floating yoga. The tree spa has a holistic focus and hires the most diverse but well trained staff of professionals.
The resort offers guests different package options, from romance to girls weekend getaways, all thoughtfully organized with carefully curated itineraries to help ensure the most relaxing and healthful stay for guests. One popular option is the 'Healing Holiday' which is a 7 night program with the aim or rehabilitating one's physical self. This package can be booked and include airfare as well as accommodation.